If you are looking for a top-notch futuristic drone under $200 then you are at the right place. Here we are going to discuss the Contrixo F22 review to make you understand why you should purchase this high-tech foldable quadcopter. Undoubtedly, this is a wonderful gadget for all tech-savvy people, especially for pilots.
Contixo F22 Drones: Reviews & Specifications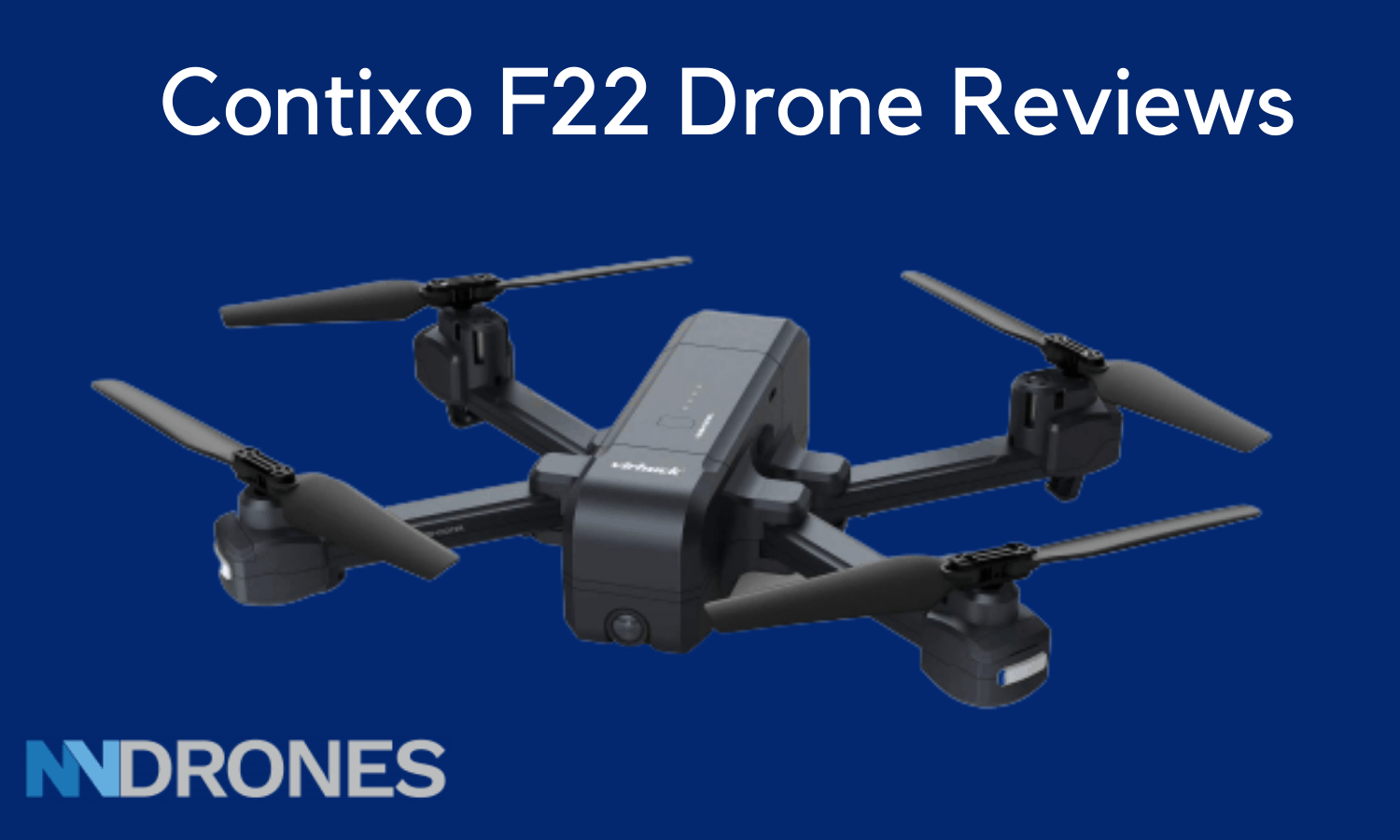 The very first thing that you can notice when you have this drone is that there is no need for the assemblage. Therefore, this device is like a plug and play which is really good for beginners because you do not need to play with screwdrivers on an expensive drone when you are unaware of what to do. You will get a good carry case or you may say a briefcase to carry this drone with complete protection.
Camera:
This drone comes with a full HD 1080P camera which is pretty good for high-quality video shooting in both outdoor and indoor. This drone camera can capture the front view and is also able to capture the best view within 120 degrees wide angle.
Here you can get the first person view or FPV with this drone that allows you to do the real-time transmission of the video up to 750 feet range.
This drone camera can present you Bird's Eye View along with you can see the original viewpoint which the drone can shoot.
Through this drone, you can shoot videos and take snaps during flying for up to 15 minutes.
Battery & Flight Time: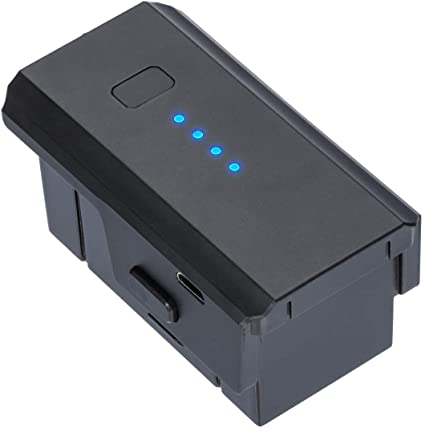 This Contixo F22 drone is powered by the top quality 7.4v 1200mAh lithium polymer battery. You can run this device up to 15 minutes of flight time with just a single charge. This battery also comes with a charge indicator light which helps the operator to know about this device. As the light is going to reduce, you will be able to understand how much charge is left in your drone's battery.
You need to charge it for 110 minutes to make it fully charged and besides that, you can get the opportunity to add another set of spare batteries to increase your drone's flight time.
This drone allows you to control this device within 1800 feet distance and on the other hand, the distance that you can use for video transmission is up to 600 feet.
One of the most important features of this device is the Waypoint Feature, which allows you to make the following on the smartphone. As soon as you launch this mode your drone will follow that route.
Highlighted Characteristics of Contixo F22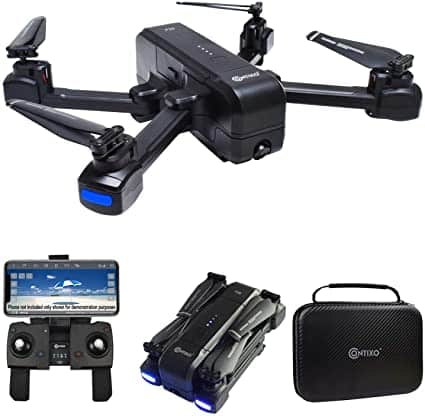 Standard Features Of Contixo F22 Drone:
In this drone, you can get a couple of amazing cool features that will definitely entice you to buy this gadget. You can get an option of 'Follow Me Mode', which allows the drone to come after you to shoot your video footage.
The above-mentioned feature is quite impressive for most of the outdoor enthusiasts.
There are many other standard features like Orbit Mode, Hovering Mode and Automatic Return for Safety Mode.
Using the app
You can download and install the Contixo F22 app for both iOS and Android devices. After you have downloaded this app you get access to many more different attractive features. The very first thing that you will notice is the FPV Mode, through which you can see what your drone can see.
You can get the option of auto Gesture Mode which indicates that you just need to wave your hand which your drone will follow.
Above all, you should keep in mind that you would need to operate this device in very good lighting.
Through Gesture Mode, you can take your selfies with this drone.
Latest Features:
Orbit Mode, allows the drone to fly around circularly at that path which you have set to follow.
There is no need to worry about its stable flight because in any crucial moment like if the battery has drained out or the device may get signal lost then it will precisely return to home.
There are many other attractive features like Gesture Control, 1-key Takeoff, Auto Hover, Selfie Mode, Headless Mode, and FPV Mode.
You can easily share your adventurous drone shoot videos and pictures into social media platforms through your android or iOS device.
You can use this device through installed apps and operate through F22 RC remote and application.
This device can be fly through video transmission within a suitable wifi range of 750 feet and it can easily fly up to 15 minutes.
You can use an additional sd card to enhance your storage capacity where you can store more videos and pictures.
Pros & Cons of Contixo F22:
We have discussed a lot about the features and facilities of this drone. Now, it is time to evaluate minutely what are the advantages and disadvantages of this gadget.
PROS:

 
For a beginner it very simple and much user-friendly to fly this device.
This gadget is quite affordable as it comes with a $133.99 price and it is pretty much portable because it is very lightweight, you can fold it to carry easily in a briefcase.
This device comes with a durable carry case which seems like a briefcase well padded to protect your inside drone.
You can get a smart battery pack that easily indicates how much battery life is left while using the device and the battery life is much long-lasting.
This device comes with a limited period of the 1-year warranty.
You do not need to assemble it because it comes with ready to fly mode, means it has already assembled.
CONS: 
If you are looking for another set of spear batteries then it is a little bit disappointing because it is not widely available.
There are several extra features that might make you or any other beginner confused.
Importance to purchase Contixo F22:
First of all this drone becomes an appropriate useful device for all categories of people including beginner, intermediate and advanced pilots. The reason behind this huge support is that it is an affordable device which can provide a round of high-quality features. Apart from all attractive features, this drone is quite portable and it is an easy handling gadget. If you are looking to have a foldable drone under $200, then we would definitely say this is the best option to buy. In terms of a quality recording, there is hardly any other foldable drone camera available in the market under this limited budget.
User Reviews:
There are several satisfied customers who considered the fact that this gadget is good for spent money. They are happy enough with their camera and video recording quality as it comes with 1080P full HD camera. However, there are many such customers who actually expect a little bit more battery life in this device. Several people who are fascinated with its wide range of shooting modes like they really enjoy its FPV and automatic return home mode.
In fact, most of them accept the fact that it is amazing to have a number of impressive features at an affordable price. It is quite wonderful to have a high-quality drone that is fully loaded with features. However, it is hard to find such quality drones within an affordable price and in this context, Contixo F22 takes a distinguished position. Now it is your turn to buy and enjoy this gadget.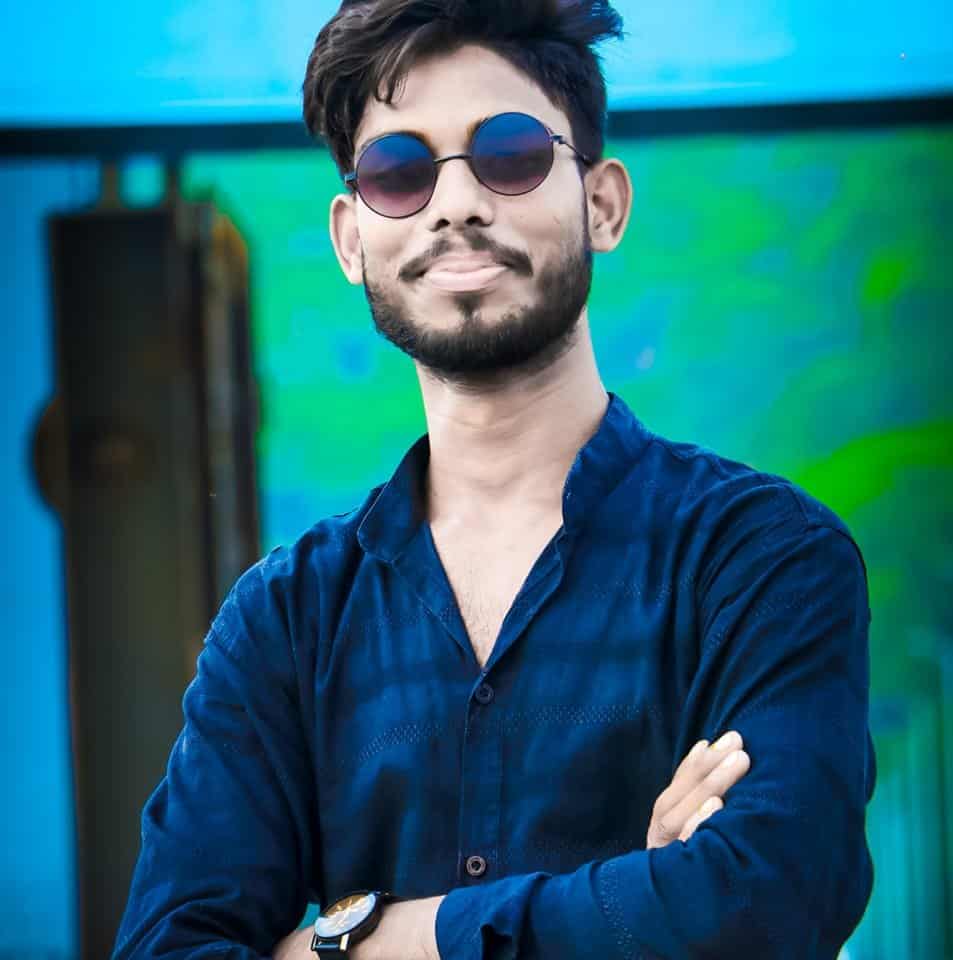 Myself Faran, Author and founder of this blog, since my childhood I was so fascinated about drones and their features that make them very important devices in various fields like search and rescue, surveillance, traffic monitoring, weather monitoring, firefighting, personal use, drone-based photography, videography.