Drones have been one of the most Impressive creation in this era of technological advancement. Drones in actual terms are known as unmanned aerial vehicles (UAVs) or unmanned aircraft systems (UASes). A drone means a flying robot that can be controlled using a remote control. But this is just not it, as technological advancement has ensured that we come across some cool features.  There are many drones that have a camera with amazing features.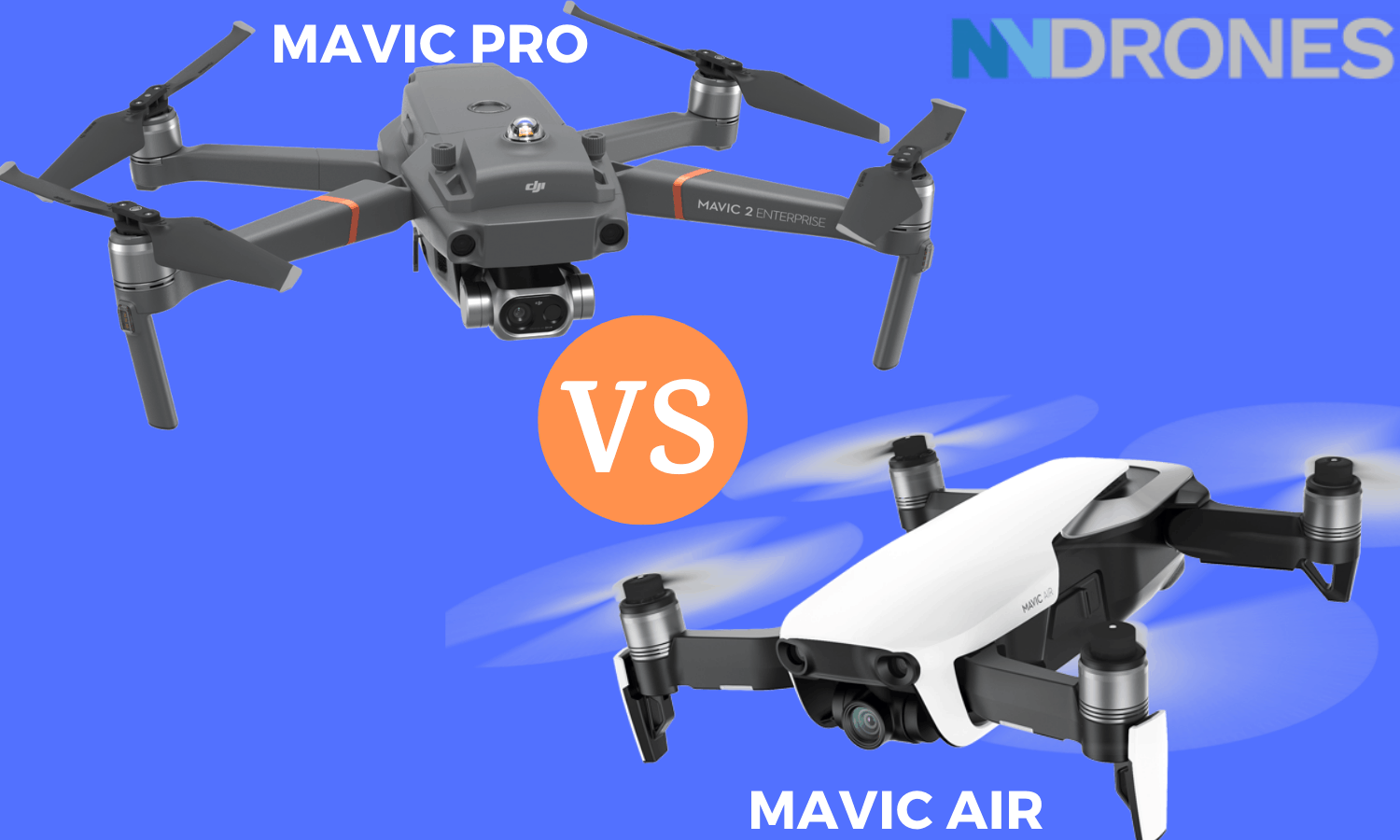 The drones have advanced control features that are safe and straightforward. Certain drones can be operated using mobile apps via GPS. This feature allows you to control the device from your phone using a video game styled controller and a headset that gives a first-person view of the machine up in the air. Some drones follow your face only with two taps on your smartphone screen after the launch. The drones can fly 360 degrees in different directions and up to a certain altitude to take aerial pictures.
Some of the cool drone features such as:
Advanced Camera Technology
Headless Mode
Controls via First Person View (FPV)
GPS tracking using mobile app
Smart Detectors
The drones have improved over the last few years due to technological advancement. Most of the new drone models consist of:
HD cameras with enhanced feature
Headless Mode
Hover Mode
There is also the use of modular batteries which ensures that there is no more trouble dealing with wired pushpins. The first person view (FPV) function of the drone has also improved over the years. Controlling your drone via an app also enables you to choose between the various picture and video options.
Must Check: Best Drones Under $500 [2020]
Tips for Choosing the Right Drone:
There are certain things to be considered before choosing a drone which is appropriate for the user:
1. Choice Based on Skills
The things one must look for while purchasing a drone is to choose one that is within your skill level as drones can be easy as well as difficult to fly. This depends on the following things:
Functions of the drone
Drone's design
Drones that are available for kids and beginners
Drones for experienced flyers
For instance, mini drones are useful for beginners who wish to experience their first time flying them. This will help you in understanding the basic features and controls of a drone before you find yourself with a more competent model.
2. Choice Based on Your Need
Many things can be accomplished with a drone. This can be categorized into two sections:
Drones that can be flown indoors
Usually, mini drones can be flown indoors. The drones have various purposes it can fulfill, such as:
Some of the drones can do flips and tricks and have wind resistance.
The drones with cameras help you capture photos and take video.
The type of photography you wish to accomplish varies according to the drone you buy. Many of the beginners in photography use mini-drones while learning before buying a professional drone. Hence your decision should be based on drone productivity and for what reasons do you wish to use the drone.
3. Choice Based on the Drone Features
Drones, with the help of technological advancement, have many features. These features will differentiate drones performance, such as
Many drones come with cameras, but not every drone comes with a good quality HD Camera.
Certain drones can be controlled using the remote control, while others may function through a mobile app.
Few drones have face detection and First Person View (FPV) along with longer flight time.
For instance, if you want durability, you should select a drone that comes with propeller guards or have the ability to resist damage during crashes.
This will save you money and help you purchase a drone that satisfies your needs.
4. Choice Based on Prices
Price should always be considered when you are purchasing a drone. Deciding which drone would be suitable as per the price can be overwhelming. This is due to the fact that the price of drones varies so much. You can choose the right drone based on the following factors:
A drone that fits your skill level
Drones that fulfill your purpose
Drone that has the required features
That which is made from the right quality inputs
Drone which is affordable
All these factors will help you buy the drone which is right for you.
5. Choice Based on Quality
Once you have noted down the prices of the drone you want you can easily decide the amount you wish to spend by balancing quality and affordability.
One drone may be much cheaper than others that meet your criteria.
The quality of the material used may be cheap rather than that used in the more expensive drones.
On the other hand, you may find that the top-end drone does not perform significantly better than some of the mid-range drones.
As a result, it is important to balance quality and affordability.
Mavic Pro Drone Vs Mavic Air Drone:
DJI has made official announcements for its latest drone, the Mavic Air. This is a travel-friendly and a 4K-ready drone that is ready to steal the spotlight from all the other drones.  This drone has been tested and has given impressive performance along with a portable form factor. But, the Mavic Air's bigger and older brother, the Mavic Pro, which is more expensive than the former must be considered.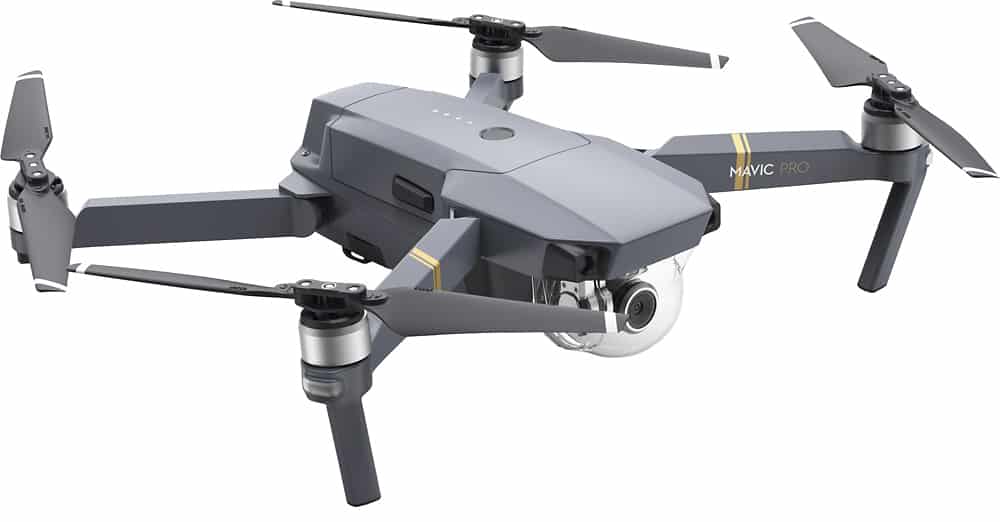 The Mavic Air and Mavic Pro both are arguably one of the best drones available in the market. Both of these drones are amazing. Buying either one of them would be a great choice, but specific models are better suited for different pilots. You will be forgiven to say there is not much difference between the Mavic Air and Mavic Pro. They both come with similar designs. They both have nearly identical features like 4K video recording, and even their prices are not much different.
Since as they are made by the same company, the China-based DJI, you will find that they have many of the same software components. Though they are similar in their design, few of the features and software, there are some critical differences between both of them. The DJI Mavic Air and DJI Mavic Pro have certain important different features.
If you are in the market for a new drone, there is a good chance that one might be of more value to you than the other, depending on your needs. Read on our guide comparing the DJI Mavic Air and DJI Mavic Pro and find it for yourself which one is the best for you.
Mavic Pro vs Air: Design
The DJI's Mavic Pro is a small and foldable drone that contains four propellers. It is a small device and can be used anywhere without trouble. This will easily fit in your hand. It is light in weight. However, it is a decidedly breakable device.
The DJI's Mavic Air is a compact and travel-friendly drone. It has four propellers with a silver design. Due to its mini size, it is a suitable option for flying both indoors as well as outdoors. It is about half the size and substantially lighter than the Mavic Pro. Hence, it is more easily portable than Mavic Pro.
Mavic Pro Vs Mavic Air: Specs
Let us check out the specs of each device through the following differences:
The new Mavic Air contains:
1/2.3" CMOS image sensor
12MP along with HDR
 32MP spherical panorama shot
Shoot a 4K video at 30fps and a 2.7K video at 60fps
Full HD video can be shot at 120fps
Recording operates at high speed of 100Mbps bitrate
85-degree field of view
Supported by a 3-axis gimbal for stable shooting
Mavic Pro's camera system has similar features like Air's camera, but there are minor differences involved:
Only 78.8-degree field of view
Supported by a 3-axis gimbal for stable shooting
Capture 12MP images in the still format
Shoots a 4K video at 30fps
To hit 120fps, the camera shoots at 720p whereby HDR images cannot be captured
Shoots in cinematic 4K which is high-resolution version as per the industry-standard of 24fps
Video recording ability is slow
Mavic Pro Vs Mavic Air: Sensors & Storage
Sensors
The Mavic Air has the edge over the Mavic Pro in terms of sensors, which are packed on the drone for flight safety and dodging obstacles. But the Pro is edgy in terms of operational distance with its capability of maintaining signal with the controller up to 4.3 miles range compared to the Mavic Air's 2.5-mile distance range.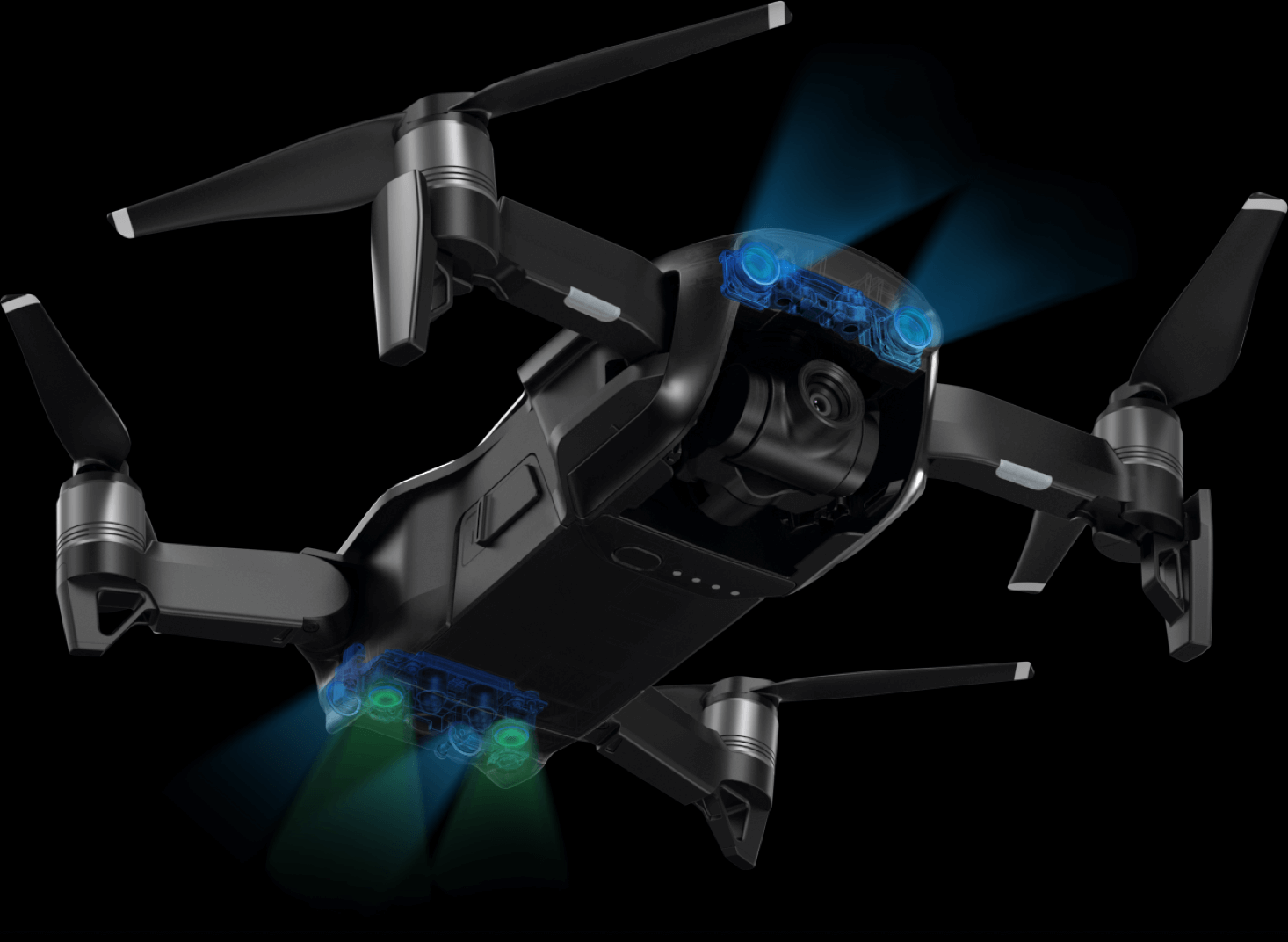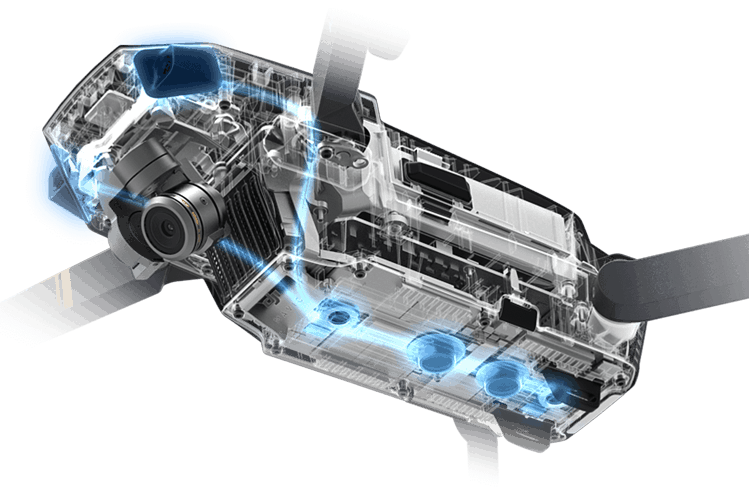 Storage
Both the drones have the support of Micro SD. The only difference is that the Mavic Pro supports a maximum of 64GB whereas the Mavic Air supports 128GB microSD card along with 8GB internal storage.
Mavic Pro Vs Mavic Air: Design & Portability
The designs of both the Mavic Air and Mavic Pro are slightly similar. They consist of the following similarities:
Both consist of foldable propeller arms that come from the corners of the long rectangular body.
Both also have a camera embedded on the front side of the drone.
The Mavic Pro's camera is out in the open.
The Mavic Air's camera is slightly nestled into the body.
DJI's Mavic Air's design mainly consists of:
Small and Foldable drone
Pocketable and shorter
Easy to carry and use
A breakable device
Weighs around 0.94lbs (430g)
6.61 x 3.26 x 1.92 inches (168 x 83 x 49 mm)
DJI's Mavic Pro is similar to Mavic Air designed as:
Compact Drone
Travel-friendly and easy to carry
Silver design
Indoor as well as outdoor flying
Four propellers
Weighs around 1.62lbs (734g)
7.79 x 3.26 x 3.26 inches (198 x 83 x 83mm)
The Mavic Air is by far more portable than Mavic Pro. At DJI's launch event for Mavic Air, the presenter made a statement by carrying his phone, wallet, and three Air drones in the pockets of his vest, along with the wireless controller in his back pocket. For extra brownie points, the portability gets to the next level as the controller contains removable thumbsticks for the reduction of profile.
Mavic Air Vs Mavic Pro: Easy to Use
Both the drones are easy to use due to the following features:
The Mavic Pro, as well as the Mavic Air, can be controlled using your phone.
You can use the Goggles that allows first-person viewing that identifies hand gestures.
The phone controls can be operated via the DJI app that is available on your iPhone or Android device.
While that experience may be similar for both the devices, the Mavic Air has smooth gesture control features. DJI's latest release the Mavic Air has improved sensors compared to the Mavic Pro and quickly identifies the location and the direction to reach the destination. That provides you with better control functions with the movement of your hands.
Mavic Air Vs Mavic Pro: Automation Tools
Automation tools are the main reasons to buy DJI drones. The Mavic Pro and the Mavic Air give us a beautiful illustration for the same. This can be explained as follows:
Both drones will allow you to lock onto a person.
Following that person, you have locked onto wherever they go.
Deciding at what height and distance the drone should follow the person.
Upon entering the No-Fly Zone, the drone comes down automatically.
The Mavic Air has enhanced sensors that give you a slightly better flying experience. For instance, if you have set your Air to fly ahead and if there is an obstacle, it will move around it and keep going further.
Mavic Air Vs Mavic Pro: Indoor Vs Outdoor Flying
Flying indoors requires expertise and some insight. Operating in an enclosed space proves to be a great way of learning for beginners. Beginners ways the Mavic Pro or the Mavic Air would be a great option. But the Mavic Air is smaller and lighter that proves to be a better option for flying indoors. Outdoor flying functions similarly but Mavic Pro has slightly better battery life. For the speed, Mavic Air is a better option out of the two.
Video & Photo Quality:
Video
The DJI's Mavic Pro is capable of recording videos with 4K resolution and records those clips at 30 frames per second. This might not be fine for fast action like sports, but should be excellent for standard recording. It has a 78.8-degree field-of-vision field of vision. This offers a 78.8-degree field-of-vision. It also provides a 60 Mbps bitrate and an ISO range of 100 to 3200.
The DJI's Mavic Air can also record a video with 4K resolution, but it records those clips at 24-frames-per-second recording. This enables us to catch even fast-acting movements. It has an 85-degree field-of-vision. It also offers a video bitrate of 100Mbps. Its ISO range is the same as that of Mavic Pro 100 to 3200.
Photo
The DJI's Mavic Pro has a 12-megapixel sensor with an ISO range of 100 to 1600. It enables you to save your photos in JPEG and DNG. This drone has an option of snapping your images in single-shot, burst shooting, auto exposure bracketing, EV bias, and interval. It has a maximum image transmission range of 4.3 miles.
The DJI's Mavic Air has many of the same attributes as that of DJI's Mavic Pro. It comes with a 12-megapixel camera but has an ISO range of 100 to 3200. This makes it slightly more capable than the Mavic Pro. The camera can record in JPEG and DNG. It can do HDR photography in addition to single-shot, burst shooting, auto exposure bracketing, interval, and panoramic. It has a maximum transmission range of 2.5 miles.
Mavic Air Vs Mavic Pro: Flight and Controls
While it is mentioned previously that the Mavic Pro has a more excellent range than the Mavic Air, the following can be said Mavic Air:
The Mavic Air consists of a 2375mAh battery.
It supports 21 minutes of flying duration.
Mavic Air can go up to 6.2 miles which is 10 km without wind on a single chart.
The Mavic Air tops out at 42.5mph (68.4km/h).
Wind resistance at 19-24mph (29-38km/h) winds.
Whereas the Mavic Pro can be further explained as:
The Mavic Pro consists of a 3830mAh battery.
It supports 27 minutes of flying duration.
Mavic Pro can go up to 8 miles which are 13 km without wind on a single chart.
The Mavic Pro tops out at 40mph (65km/h).
Wind resistance at 19-24mph (29-38km/h) winds.
The control of each drone has its characteristics. While each them can be controlled with a phone or with the remote control, but they can also be controlled with a pilot's bare hands in several ways using the face gesture controls. The gesture controls have been upgraded in the Mavic Air.
Both the Air and Pro support the autonomous SmartCapture modes
Rocket
Dronie
Circle
Helix
These are flight patterns for the drone that automatically shoot a quick video. The Air has added features such as Asteroid and Boomerang. Boomerang sends the drone out in an arc which then circles back, returning to the pilot like a boomerang. The asteroid has the drone fly out for the creation of spherical panorama which merges with the video as the drone flies back toward the subject.
Mavic Air Vs Mavic Pro: Price
Neither the Mavic Pro nor the Mavic Air will go easy on a budget. Both are available at expensive rates.
Mavic Air Vs Mavic Pro: Combos
DJI has the product bundles or as they called it – Combos. Every combo has its advantage, and lots of users are happy to get them.
Mavic Air has two general Combos: Air (Base Combo) & Air Fly More Combo. Let's see what both boxes contain: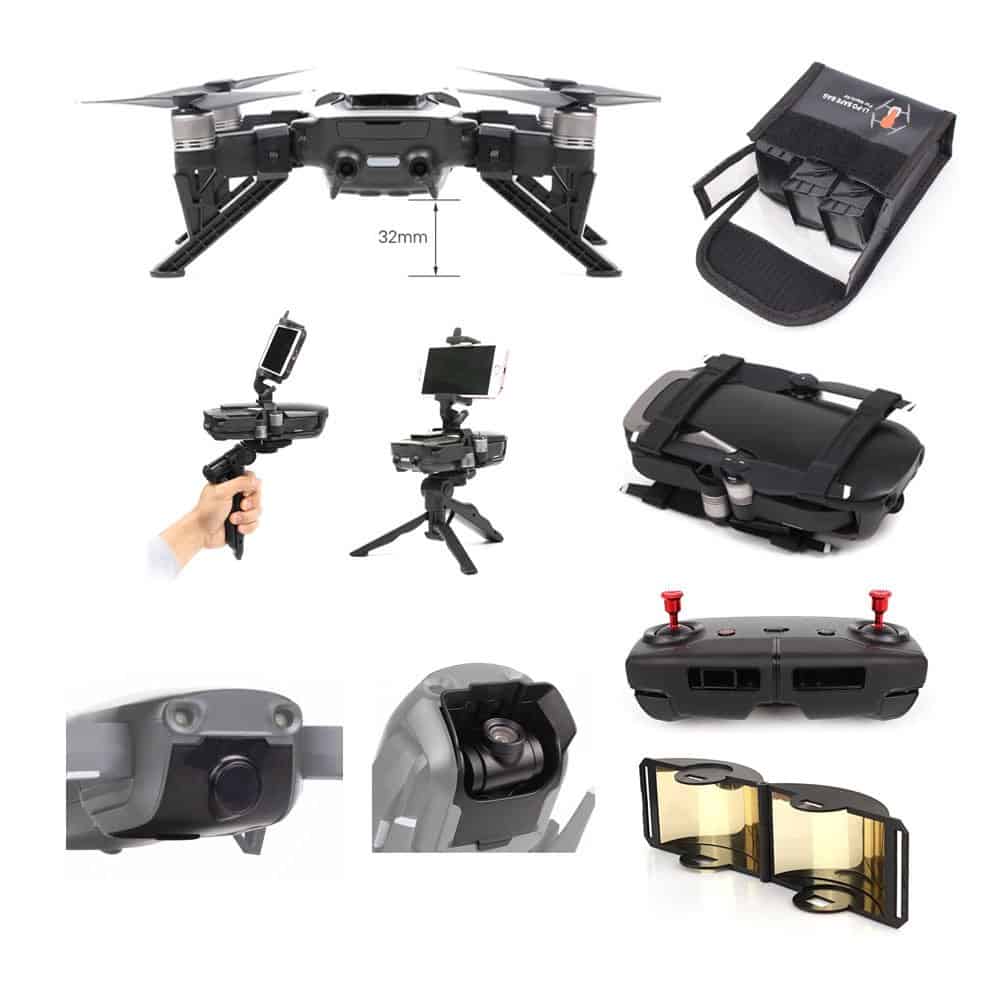 Mavic Air Drone
Remote Controller
Pairs of Propellers (4x)
Propeller Guards Set
Intelligent Flight Battery
Charger
Power Cable
3 Types of RC Cable (USB)
Communication Cable (USB 3.0 Type-C)
Carrying Case
USB Adapter
Gimbal Protector
Large RC Cable Slider
Small RC Cable Slider (2x)
Pair of Spare Control Sticks
The same is the case with Pro which contains  Pro (Base Combo) & Pro Fly More Combo. At first, let's identify the items that are similar in both bundles: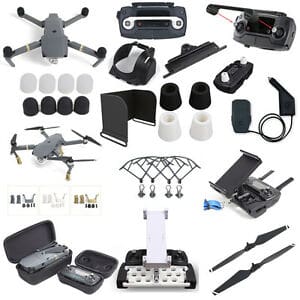 Mavic Pro Drone
Remote Controller
Pairs of Propellers (3x)
Intelligent Flight Battery
Charger
Power Cable
3 Types of RC Cable (USB)
Gimbal Cover
Gimbal Clamp
Micro USB Cable
Micro SD Card (16GB)
Large RC Cable Slider (2x)
Small RC Cable Slider (2x)
If you want to enjoy your flight for a longer duration, Mavic Pro is the drone you need. But the enhanced system sensors and lightweight body make Mavic Air an ideal option for the users.
Which Drone is the Best?
It can be a tough choice while differentiating the two drones from one another. They both have a similar design structure with similar features such as the 4K video recording, and the price difference is minimal too. They both are the products of the same parent company, which is China-based DJI. DJI has launched numerous drones in the past with the same software components. But the differences are significant between the DJI Air and Pro. If you are looking for a new drone in the market, one of these drones might fulfill your needs based on what they are offering.
The new drone Air looks similar to the Pro in a lot of areas. The difference in prices places the  Air ahead of its big brother Pro for most buyers.  People in need of increased fly-time and range or the cinematic 4K recording option of the Pro should stick to the older and larger drone. But the Air is better and a more capable and affordable option that is a perfect choice for the buyers. It's faster and smarter, capable of shooting in new ways, and the $200 savings on price is substantial.
Both drones have excellent features and capabilities. But getting the drone is not a daily act which is why one has to be very careful while choosing which one is the better for him/her. These drones are quite flexible and portable. They don't require much space and folding option makes it even easier to carry them. DJI Mavic Series was meant to be the most comfortable series, and of course, the design was the part of this strategy. Air and Pro both have incredible flight performances, but here we can catch some differences.
Air operates on Flight autonomy 2.0, which is smarter and lets the drone fly more professionally. The noise level is lower, and the Advanced Pilot Assistance System gives the user extra security since it can avoid the obstacles in more excellent ways. The Mavic Air is cheaper, faster, has 8 GB internal storage and several exciting Quickshot modes. On the other hand, Mavic Pro can fly for longer, which may be a primary reason for choosing it. There is much to love about both of these drones.
Both models are best to buy for both enthusiast and working videographers. Because the models closely match in terms of size and specifications, the choice of which one to buy depends mainly on your personal preference. DJI's Mavic Air comes with better sensors than the Mavic Pro at a cheaper price, and is the most portable option. And since it comes with many of the automation features you would want — and you can find that in the Pro . Though the Mavic Air seems like an ideal choice for many.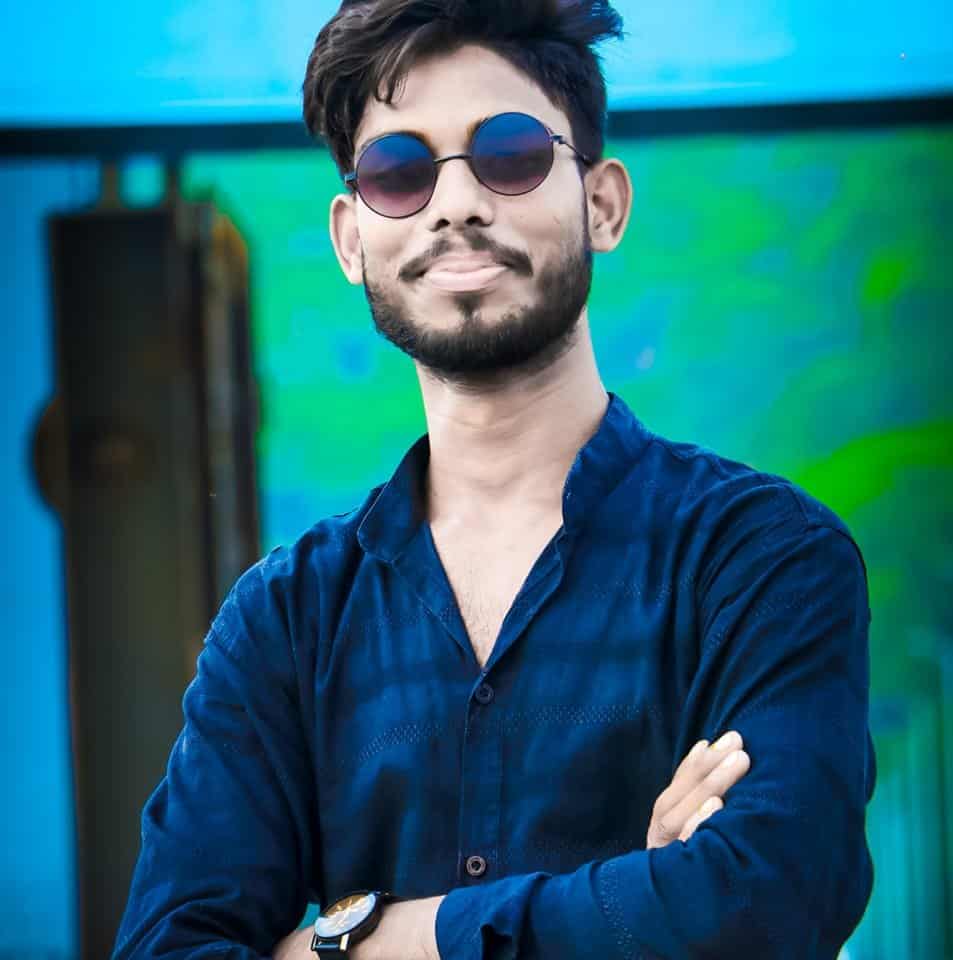 Myself Faran, Author and founder of this blog, since my childhood I was so fascinated about drones and their features that make them very important devices in various fields like search and rescue, surveillance, traffic monitoring, weather monitoring, firefighting, personal use, drone-based photography, videography.