Mini Drones with Cameras are suitable for novice photographers who require a suitable quadcopter for taking pictures. These pictures can be captured from a different angle beyond the reach of human hands or for shooting short videos. Mini drones come handy as they are smaller in size compared to a regular drone and can fit easily into small spaces. The technological advancement has ensured that drones are quite common and affordable devices owned by the public.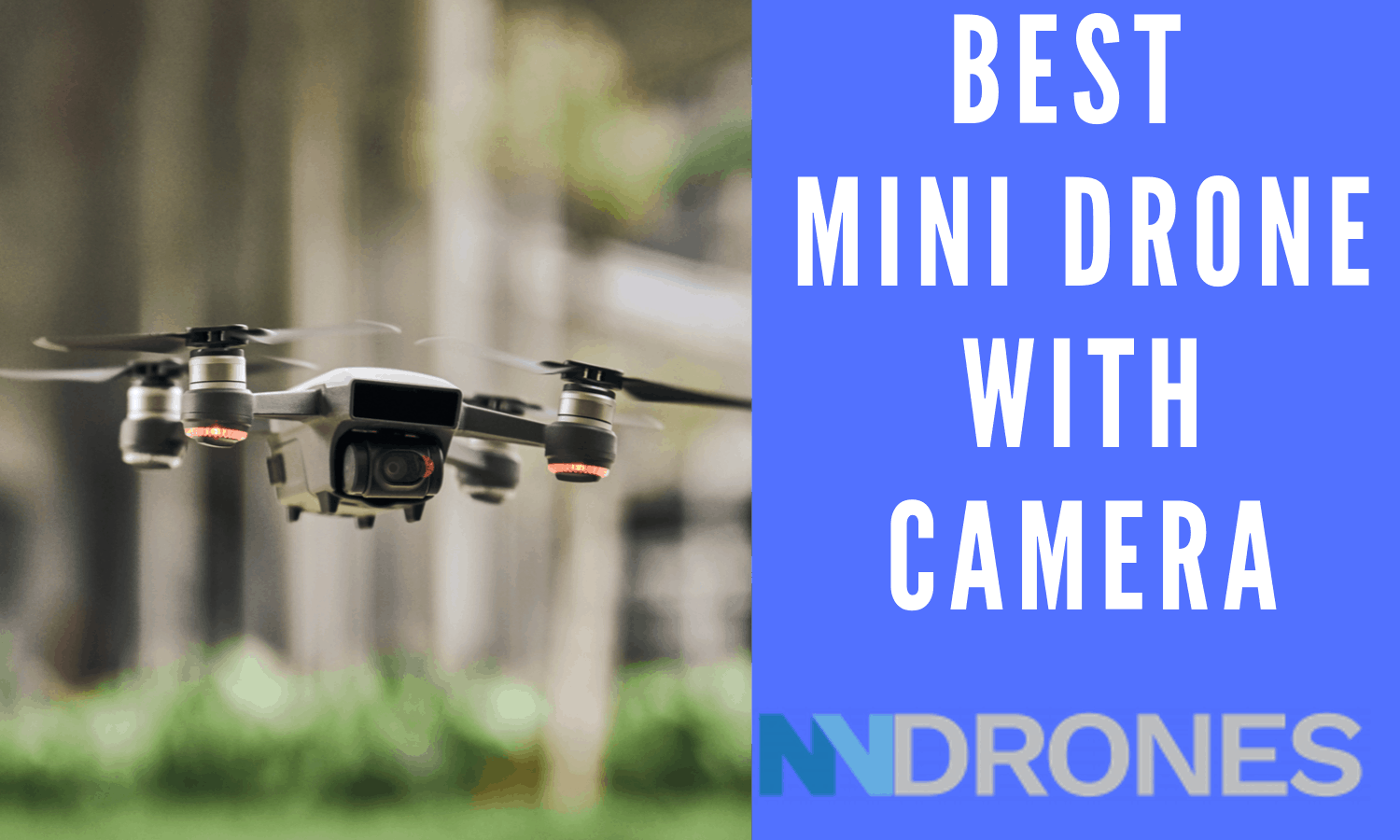 The flight time for most drones is between 5-10 minutes, which enables you to capture the beautiful scenario surrounding you.
Why should you choose a mini Drone with a Camera?
Mini drones are quite popular amongst the crowd for the simple reason being that they are readily available at cheap rates. The mini drone is the size of your open hand and can easily fit in your pocket. Few of the models are foldable and easy to carry. This makes the drones effortless to move and gives you the freedom to bring them to the places you visit. These mini flyers are an outstanding choice for those who wish to experience the sensation of flying a drone. They are smaller in size than the large professional drones, but they come handy for beginners who want to understand the functioning of drones.
Recommended Drones in Budget for You
Key Features of Mini Drone with Camera:
Listed below are some of the features of mini drones with camera:
1. Advanced Camera Technology
There are many mini-drones that have a camera with amazing features, just like any other large drone. The camera on most of the mini drones consists of a 12-megapixel camera with 2-axis gimbal (Pivoted support that allows rotation) and f/2.6 25mm lenses. Such camera features deliver a crystal clear picture consisting of rich quality. Mini drones with cameras contain various technologies such as:
Most of the mini drones have an Ultra Smooth camera technology which reduces the excess amount of shaking when the drone is in use. This feature enables the novice photographers to capture an incredible view from the air and reduces the rolling shutter effects so that the video recordings are clearly.
Some of the mini drones consist of Quick Shot technology that lets you choose various cinematic shots to capture footage equivalent to a professional.
Mini drones consist of an Active Track camera feature which allows recognition of objects with different sizes and shapes and enables you to track your objects as they move around.
Specific cameras of the mini drones have a Face Aware technology that will identify its users and respond to their gestures. This feature enables you to move your drones forward, backward or sideways with a simple wave of the hand matching the signal.
2. Modernized Control Features:
The quadcopter has advanced control functions which are safe and straightforward. Certain mini drones can be operated using mobile apps via GPS. This feature allows you to control the device from your phone using a video game styled controller and a headset that gives a first-person view of the machine up in the air. Some mini-drones follow your face only with two taps on your smartphone screen after the launch. The mini-drones can fly 360 degrees in different directions and up to a certain altitude to take aerial pictures.
3. Components with Upgraded Features:
Mini drones have improved over the last few years due to technological advancement. Most of the new mini drone models nowadays consist of:
HD cameras with enhanced features
Headless Mode
Hover Mode
There is also the use of modular batteries which ensures that there is no more trouble dealing with wired pushpins. The first person view (FPV) function of the drone has also improved over the years. Controlling your drone via an app also enables you to choose between the various picture and video options.
How to Choose the Best Mini Drone with Camera?
Before buying any product there are a few things one must consider. The same is the case for selecting the best drones with good camera features. The first thing that must be clear is mini-drones are smaller in size so they might offer similar features as any other average drone but it will not be to a much greater extent. For example, the camera may be a High definition with a good resolution but may not give good pictures with proper clarity. Such mini drones are useful for beginners who wish to experience their first time flying them. This will help you in understanding the basic features and controls of a drone before you find yourself with a more competent model.
Two-stick control method is basic and will be found in every drone including the drones with a live screen on your smartphone. This feature is called "MODE 2" which enables the flyer to move up or down and rotate the drone with the left stick and roll or fly using the right stick. Along with this feature, the drones may share rechargeable batteries, rotating props, remote control receiver, speed mode and camera with varying resolutions.
Different drones have different designs as per the company's requirement. Speed and manoeuvrability are of great significance for those who participate in leagues where drones are raced. Size and safety with speed control are important for those who fly drones indoors. Camera quality with drone stability is important for photographers and videographers that provide you with great picture quality.
Best Mini Drone with Camera Under Best Price:
You are on the internet searching for mini drones with the camera when you realize there is end number of mini drones. You are in a dilemma about which one could be the best. Here is the list of the 10 best mini-drones with a camera.
1. Holy Stone HS170C Mini Quadcopter Drone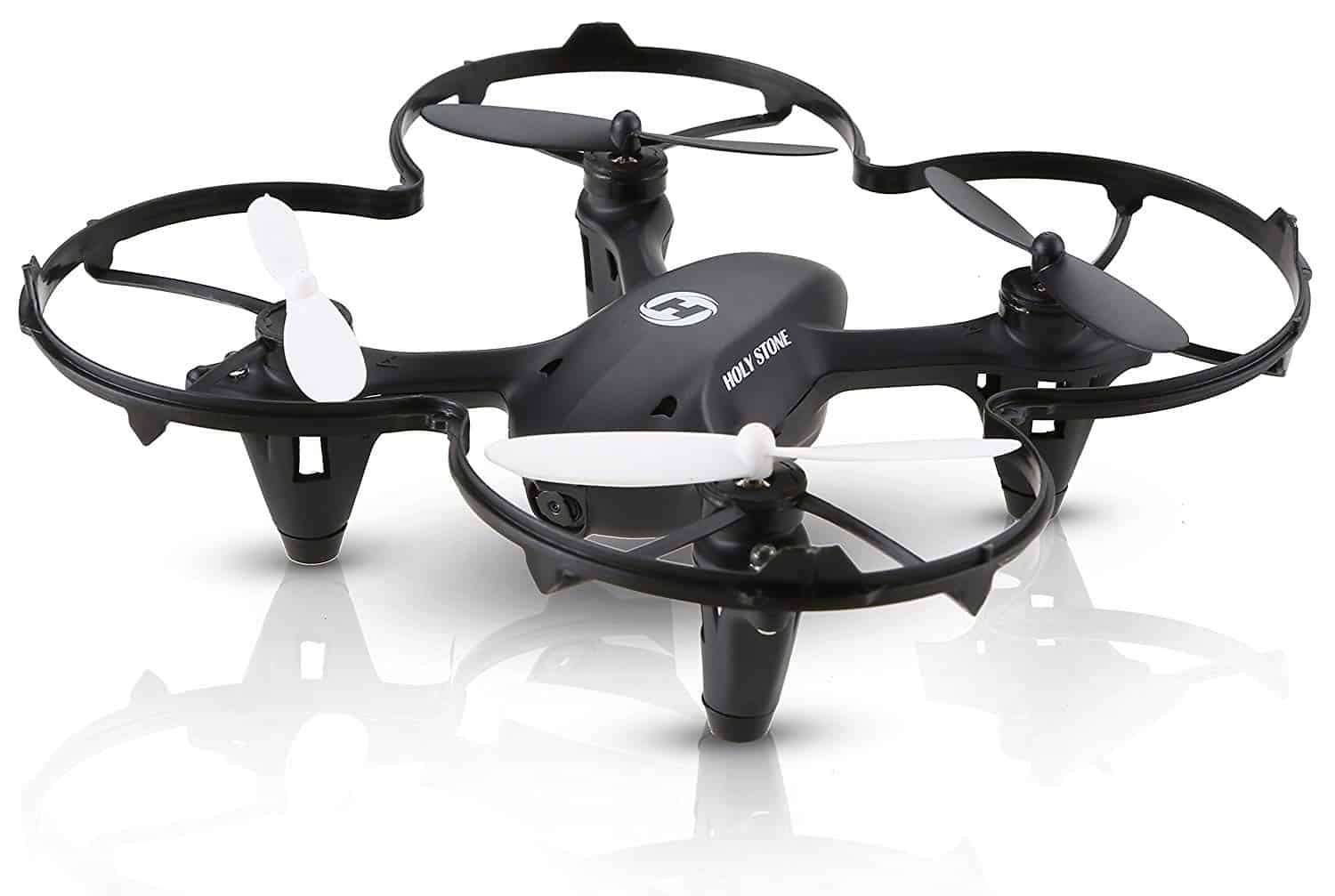 Holy Stone HS170C Mini Quadcopter Drone Predator 2 consists of an HD video camera that allows you to capture high-resolution pictures or videos during the flight. This mini drone it's an upgraded version from its predecessor Holy Stone HS170 Predator. This drone is available at a reasonable price and is easy to operate with its beginner-friendly tools and smooth control features.
Key Features
2MP HD Video camera with resolution 1280 x 720
Upgraded 4 GB micro SD Card
4 GHz technology with low interference
6-Axis Gyro Helicopter for stability
30-50 metres of control range
Wind resistant
Headless Flight System for easy operations
Product Review and Description
Holy Stone HS170C Mini Quadcopter Drone has been designed in a way to make it look professional. This version of mini-drone trump's many other versions of small quadcopters that are available on Amazon. HS170C has a jet black coating all over its body and contains alternating propellers to guard its body. There is a built-in guard that protects this device from crashes and is very useful for beginners. The 6-axis gyro not only provides stability to the drone but also helps in speedy recovery from any sudden movements or during stunt performance.
The headless mode feature switches the control from the drone to the remote control, which enables the drone to fly based on remote control movements rather than the direction it is facing. This helps the beginners to focus on the motion of the drone rather than the direction it is facing. HS170C Predator 2 performs an automatic takeoff and landing and return to its home functions. This drone has a speed mode which lets the beginners learn the flight controls before turning up the speed. This drone is fast and wind-resistant, which makes it an excellent option for indoor as well as outdoor flight operations. The flight time is limited to 6-8 minutes on one battery charge.
There are flight performance stability and quick recovery from sudden movements.
The Headless Mode is a big plus point for beginners.
Speed mode lets the flyer decide the speed at which they want to fly the drone.
The camera resolution is of low quality.
The control range is very short, and there are no modules available for upgrade.
Holy Stone HS170C Mini Quadcopter Drone is one of the best products made by Holy Stone and a much better version than HS170. If you are a beginner who wants to learn how to fly drones, this drone is for you. There is a lot of stability, and this drone can endure crashes which makes it an outstanding choice for first-time flyers.
2. Potensic A30W FPV Drone with Camera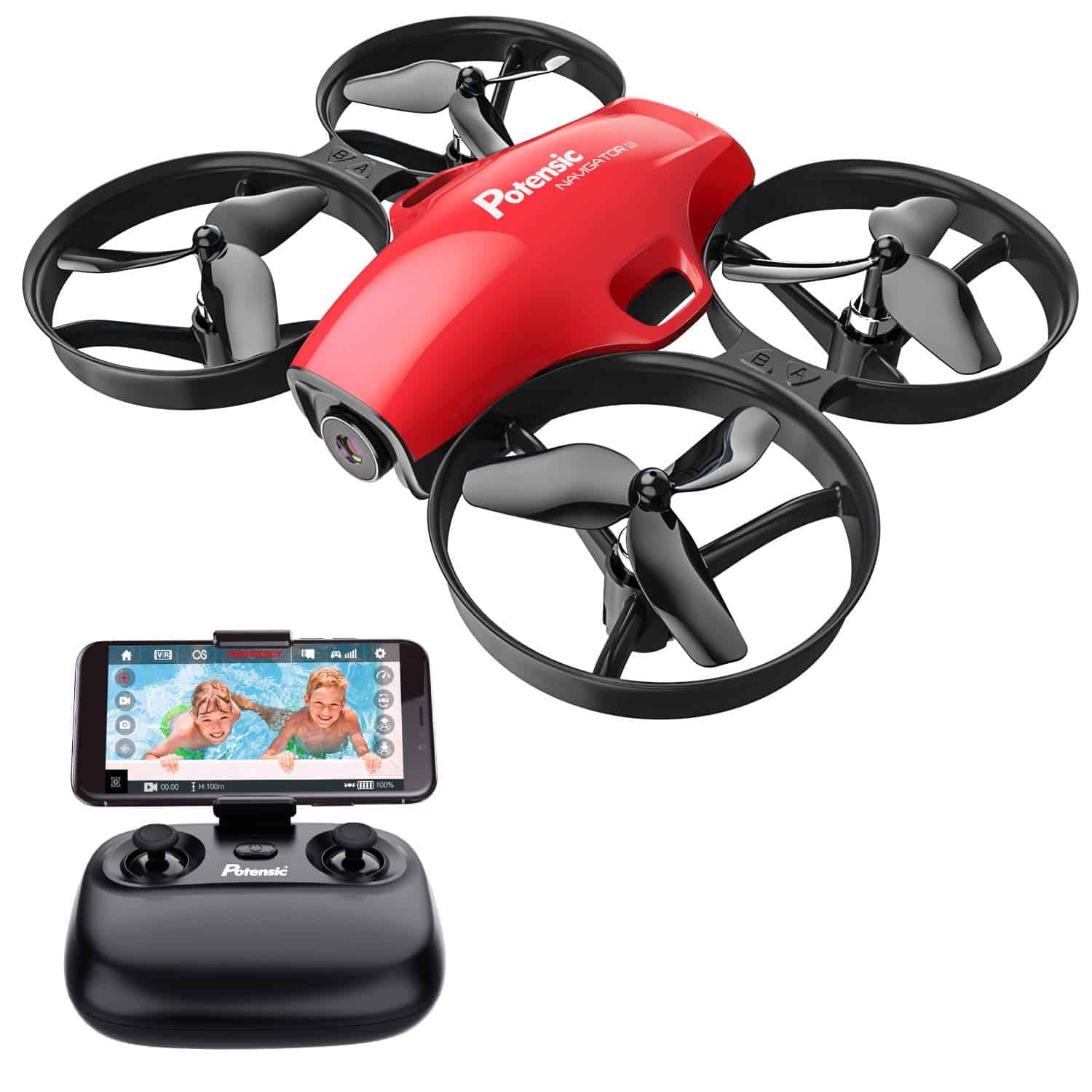 Potensic A30W FPV Drone with Camera is a mini-drone with an RC nano quadcopter consisting of route setting and gravity induction mode with 500 mAh detachable batteries. This is one of the most affordable mini-drones which is available just under $50. This mini-drone is ready to fly model which enables the user to operate it as soon as you unbox the device.
Key Features
App control and Gravity induction mode
HD FPV Camera
Custom Flight Mode
Alarm Protection
Removable and chargeable battery
Product Review and Description
Potensic A30W FPV Drone with Camera has a red coating over its body, giving it a polished appearance. The built-in propeller guard made with durable ABS plastic which helps the drone with stand the impact of the crash. This guard acts as a shock absorber which reduces the impact and helps the drone to stay in the air. Potensic A30W has a built-in 720p HD Camera which connects to the mobile device for FPV mode. This mini quadcopter only weighs 63 grams and is small to fit in your pockets or your travel case. The battery is located underneath the device, which makes it easy to replace the battery.
The Potensic Navigator III gives high-quality flight performance that offers a fierce competition to the other drones. An upgraded 9-Axis gyroscope provides the device with stability and flight controls with precision. The Potensic Navigator uses brushless motors and a modularized battery that gives high performance with efficiency. This device contains a speed mode which is beneficial for beginners for learning purposes. There is a slow speed mode which is useful for indoor flight. Potensic A30W FPV Drone with Camera enables you to create your customized flight path, and the gravity sensors allow you to command the drone using the mobile device.
The drone is designed to be sturdy and withstand impacts.
Built-in propeller guards to protect the device body.
Available at affordable rates and highly effective for new users.
The flight time is quite less due to limited battery time.
The quality of the images by the camera is average.
Potensic A30W FPV Drone with Camera is a good quality drone available at an affordable price and is packed with great power. It has many amazing features and the 720p camera gives competition to various quadcopters. If you are looking for a camera drone with entry level FPV mode it is quite reasonable.
3. DJI Spark with Fly More Combo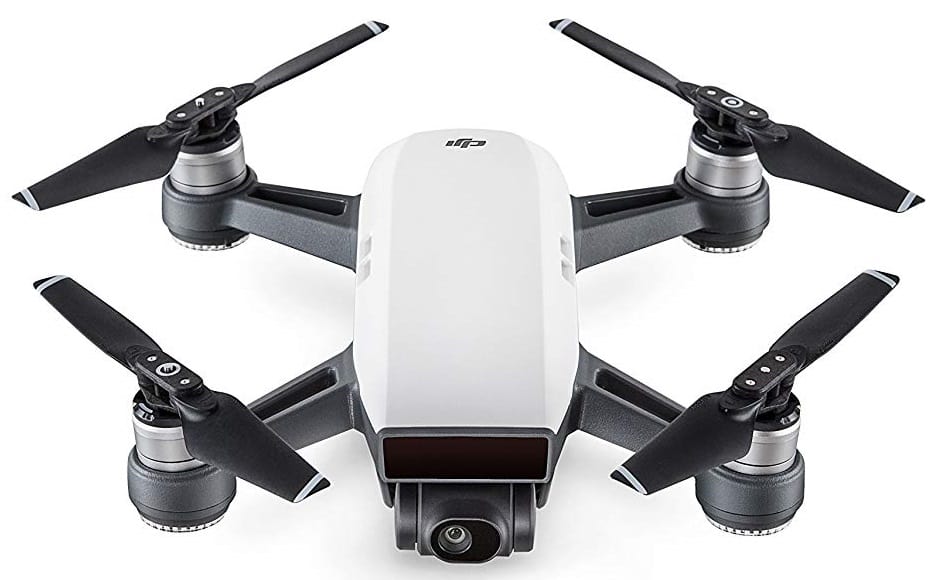 DJI Spark with Fly More Combo consists of intelligent flight modes which are reliable and creative. There is a high-performance camera which captures breathtaking pictures and stabilized videos. The flight performance is quite efficient with powerful propulsion speed and precision control. Spark is DJI's most compact drone with remarkable features.
Key Features
Hyper portable design
Smart Flight Mode
Gesture Recognition Abilities
Product Review and Description
DJI Spark with Fly More Combo has a lot of different features within a small body. The drone has gesture recognition ability, which ensures that it can function without a smart phone or a remote controller. Before the take-off, the drone scans your face so that it can track you. The 12-megapixel camera shoots videos at 1080p and 30 FPS. The 2 Axis gimbal allows the camera to be mechanically stabilized and reduces any shaky movements. This ensures the footage is smooth and precise. Most of the drones only feature a single-axis gimbal for stability. The arms of the drone cannot be folded into the body though you can stow away the props into the body.
This drone does not have any landing gears but instead has rubber feet which assist the drone while landing. The drone is a solid piece of plastic which makes it sturdier. DJI Spark gives you an average of 13 minutes of flight time. Since this device comes with a set of two batteries, it provides 267 minutes of flight time altogether. The battery takes 45 minutes to charge up to 100%. If you charge the battery after low power emergency landing, then it will take up to 30-35 minutes. This drone gives you a responsive flight experience and provides impressive stability for a drone its size. Even in windy conditions, it reduces the overall impact of the wind and keeps the position steady.
The gesture control feature eliminates remote control.
There are smart flight modes such as Rocket, Dronie, and Circle.
Gives excellent flight performance even in windy conditions.
Consist of compact design with low price points.
The camera is quite dated.
The flight range is limited.
The average flight time is short.
DJI Spark with Fly More Combo iOS suitable for beginners looking for an affordable device. This device is very durable and reliable and contains sensors that can help you avoid crashes. This drone has various upgrade options that can help you improve your skills as a pilot. This drone is very long lasting due to the availability of various upgrades.
4. Holy Stone F181C Quad copter Drone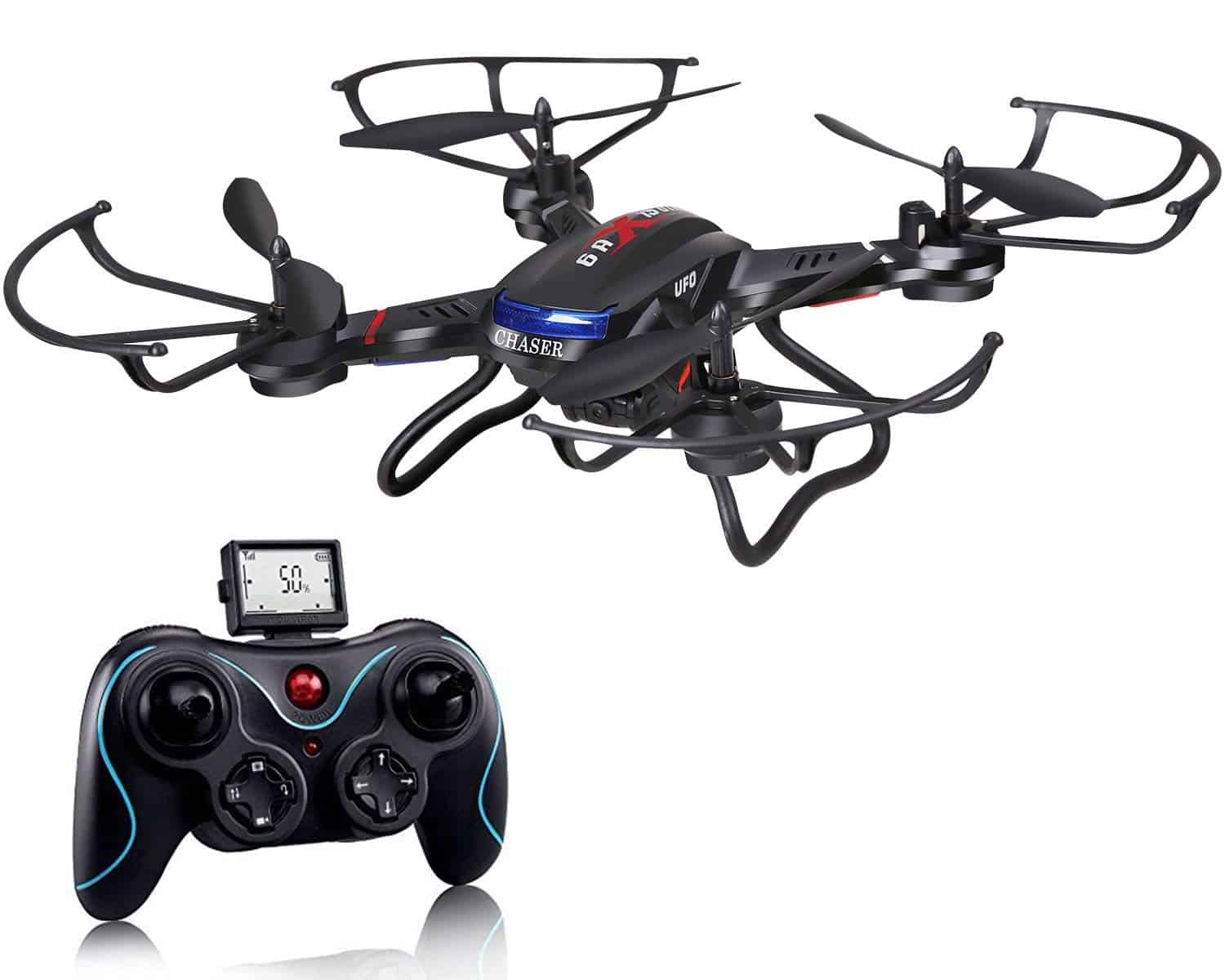 Holy Stone F181C Quadcopter Drone is equipped with a headless security system and one key return. This feature is mainly to prevent beginners from losing their drones. This is one of the best mini drones with cameras as it contains extra camera features which are uncommon for inexpensive drones.  This drone will also benefit the experienced flyers due to availability of advanced features.
Key Features
Altitude Hold Function
720P HD Camera
Headless Mode
One Key Return
3D Flips and Rolls
4 Speed Control Mode
Controllable LED Light
Product Review and Description
Holy Stone F181C Quadcopter Drone consist of an altitude hold smart function which enables the drone to keep hovering at a height after you release the throttle stick. The headless mode is a great feature for beginners as it helps in drone recognition and easy operations. The 720P helps you in capturing beautiful scenery with clarity. This will drain your battery but if you take a few pictures the battery will be long lasting.  The one key return feature is important for beginners and helps you summon back your drone.  This feature can be used once the operator reads the manual carefully.
The 3D Flips and rolls will enable your drone to flip in four directions. The two pieces of powerful batteries and motor offer greater power to the drone and support in a longer duration of the flight. Controllable LED lights will help in determining the location of the quadcopter, especially in the dark. There is a left or a right hand operation mode which can be selected as per the user's preference. The 4GB micro SD Card is upgraded in the quadcopter for the storage of pictures or videos. This drone does not have an FPV and cannot be connected with the smart phone. The average flight time is 7-10 minutes with an operation range of 50-100 meters.
The body is designed in a way that offers durability.
There is a decent controller with 4 different speed modes.
The LED light controller helps you switch it on and off and locate the drone during night time.
The flight time is very less.
There is no gimbal for the camera to keep it stable.
Holy Stone F181C Quadcopter Drone is mainly for beginners and not experienced flyers. The easy control features on the drone allow you to learn how to fly these devices in the air. This is a cost-effective device that is affordable by beginners.
5. Syma X5C Explorers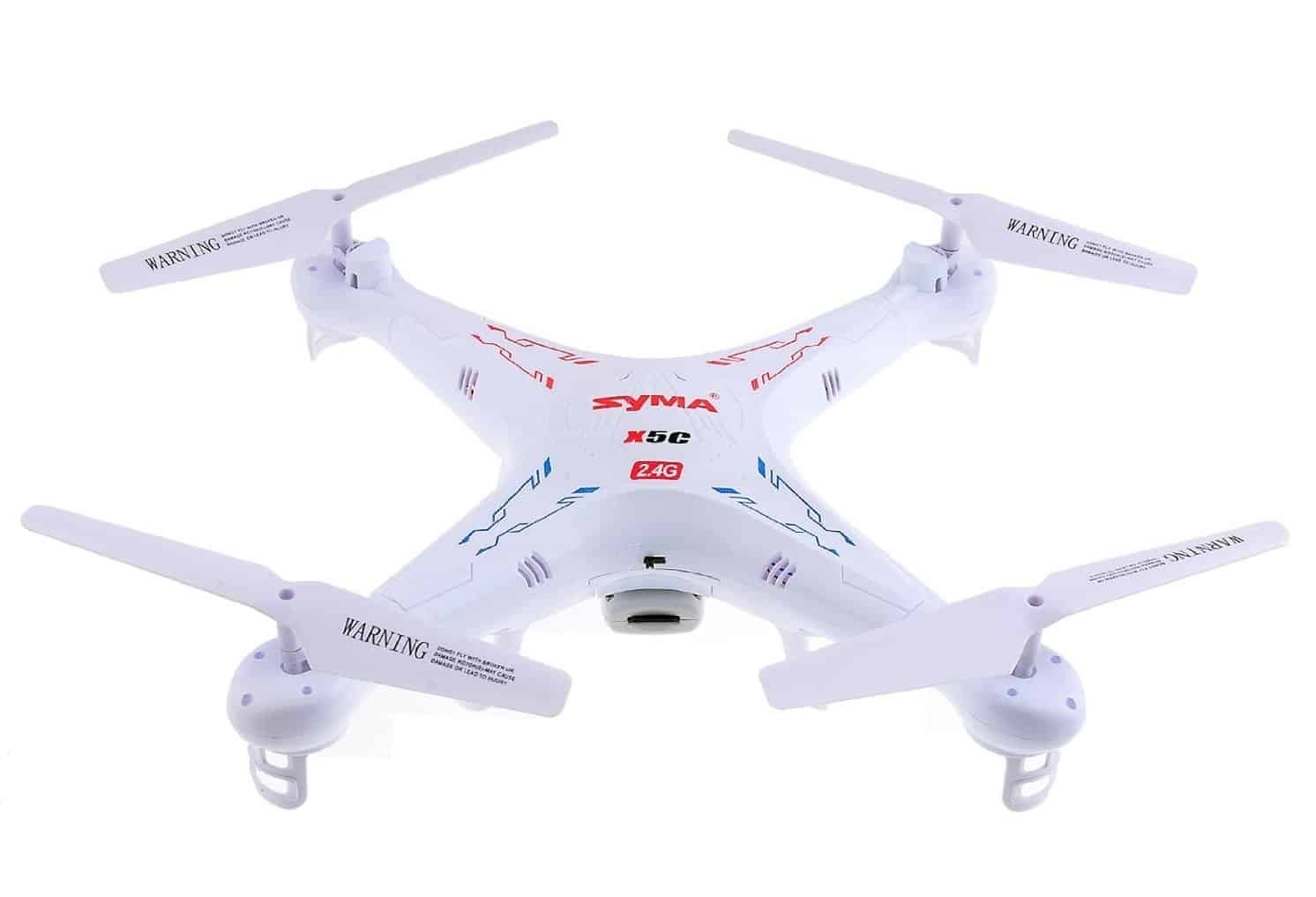 Syma X5C Explorers is a stable flyer offering great agility and effective flight performance. This drone has a good built quality which is durable and quiet during its flight. Syma X5C offers upgraded features from its previous model.
Key Features
HD Camera
4 GHz Remote Control
Extra Set of Propellers
500 mAh 3.7 V Battery with USB Charger
4GB SD Card
Product Review and Description
Syma X5C Explorers contains a mixture of colors from white to red which makes the device look edgy. Good quality plastic material is used to design the drone. You are provided with the option of mounting propeller guards and landing pads for additional protection. This might add weight to your drone and shorten the battery life but this guard will protect your drone in case of impact. There is a smart speed mode that can be adjusted and allows you to fly the drone indoors as well as outdoors. The speed mode can also be used for beginners who are still learning how to control the drone. The average flight time for this drone is 6 minutes but with upgraded batteries, this could go up to 9-10 minutes.
The drone has a limited control distance of 30 meters. The performance level of Syma X5C Explorers is outstanding as it provides stability and easy controlling of the drone. You can command the drone to carry out a 3560 degrees flip in any direction. This quadcopter features a 2MP camera that records at 720P resolution. The headless mode feature allows the drone to fly in a direction based on your movement. The 2.4 GHz remote control technology enables the user to fly the drone at a distance with anti-interference ability. The 4GB SD card enables the user to store the footage in the drone itself. This drone can endure a few crashes without any severe damage.
The flight performance is very stable.
The rates are affordable for beginners.
The features can be upgraded for effective usage.
Speed mode allows the user to learn the control functions.
The flight time is very limited.
The camera offers average quality pictures.
The control distance is too short.
Syma X5C Explorers is a decent mini drone available at affordable rates for the beginners. It has a good build design with upgradeable features and high performance. The Syma X5C Explorers is designed to teach beginners flying lessons and capturing aerial photography. It is a good choice for people who wish to develop piloting skills for drones.
6. Generic Cheerson CX-10W Mini WiFi FPV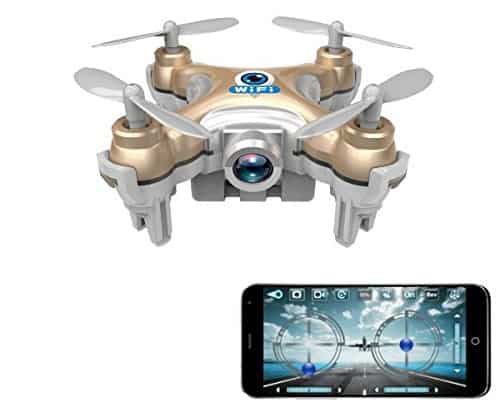 Generic Cheerson CX-10W Mini WiFi FPV is a quadcopter that can be controlled from your smart phone using WiFi. Hence, you will not need a remote controller. You can easily live stream the camera footage from your phone and control this mini quadcopter. This is suitable for beginners who want a mini drone and also want a live camera.
Key Features
Phone controlled using WiFi
One Key Return
Headless Mode
3 Flight Speeds
Gravity Sensor Control
Product Review and Description
Generic Cheerson CX-10W Mini WiFi FPV features altitude hold which helps in controlling it easily while it is in the air. The altitude hold enables the flyer to focus on other aspects of flying and not pay much attention to the throttle. CX-10WD's automatic motor shut-off is a feature that is triggered when the drone is about one or two inches above a solid surface. The 3-speed modes feature consists of 30%, 60% and 100% which is suitable for different flying styles. CX-10W app allows the user to control the drone via WiFi. This app has a transmitter emulator. There are buttons to control various functions such as speed mode, flips, and headless mode.
CX-10W app is also used to control the camera and store photos and videos on your smart phone. The transmitter consists of two AAA batteries and a removable smart phone holder. This holder fits any smart phones up to 5.5 inches. Both the control sticks have a range that helps in precision flying. The transmitter is light and portable. The CX-10WD can be stored in the transmitter. You can take it anywhere along with you without any worry of damage to your drone. The CX-10WD comes with a camera that is very good which captures images and videos with reasonable clarity.
This drone comes along with a comfortable carrying case.
The flight operations are quite stable.
The build quality is compact and durable.
It offers the FPV feature along with living streaming from the phone.
The flight time is very short.
The batteries are non-removable.
The picture and video quality are average.
Generic Cheerson CX-10W Mini WiFi FPV offers great features in such a small body. It is available at affordable rates. The live stream camera feature is very unique along with the mobile control feature. This is a great device for beginners.
7. Contixo F3 RC Remote Control Quadcopter Drone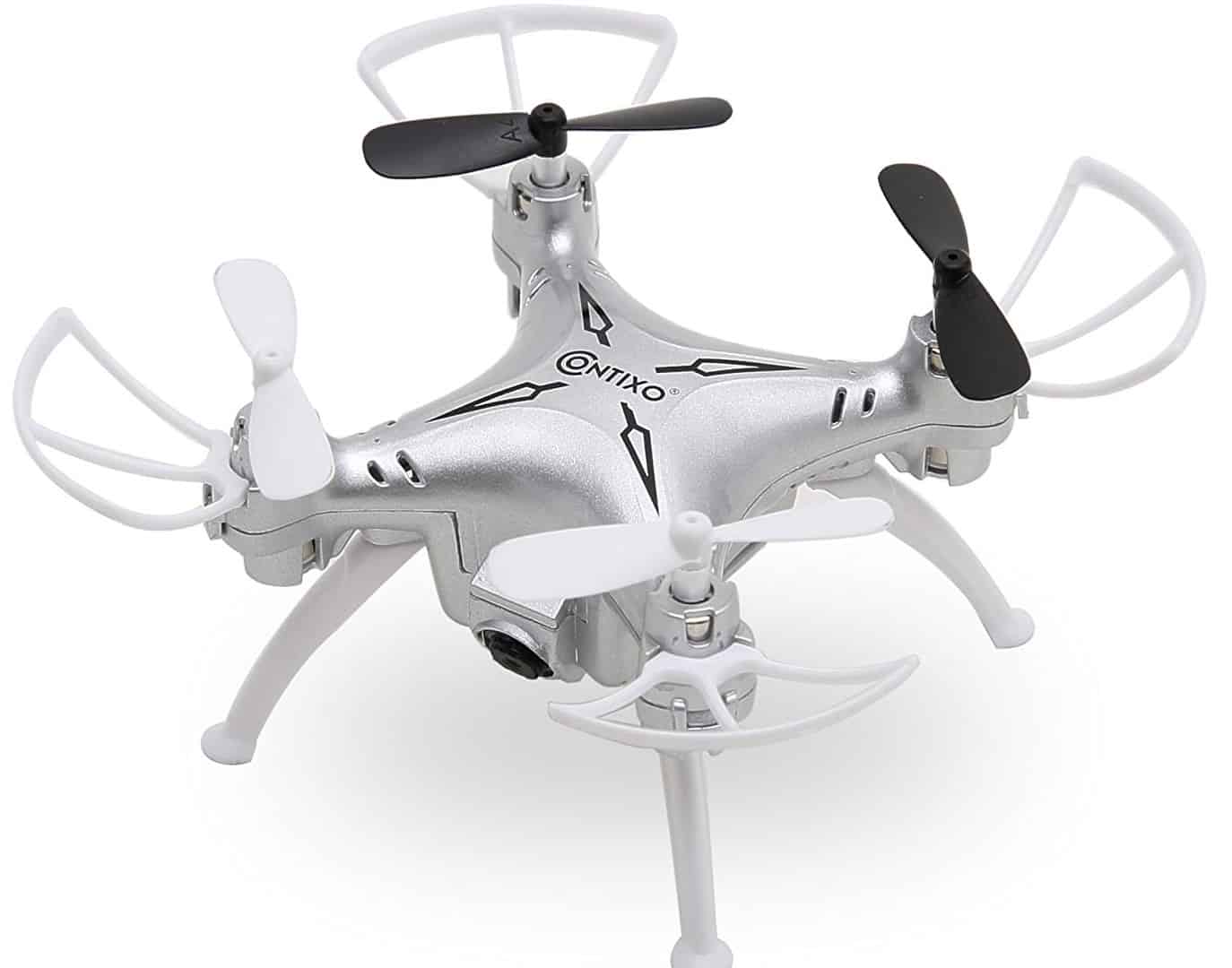 Contixo F3 RC Remote Control Quadcopter Drone is said to be the World's easiest drone to fly. This drone can be controlled easily using a transmitter or a smart phone. If you are a beginner then this product is perfect for you.
Key Features
Touch Screen Enabled Controls
G-sensor control features
Altitude hold technology
4 GHz technology
Air Pressure Sensors
Product Review and Description
Contixo F3 RC Remote Control Quadcopter Drone uses the transmitter or a smart phone device to control the drone. The app can be used for planning routes on the screen. The drone flies automatically to the waypoints. The touch-screen enables you to control the drone using gestures. The built-in camera records HD videos and photos with clarity. The gravity sensor mode permits the flyer to control the drone through the smart phone movements. App usage allows the user to operate the camera functions right from the touch screen. One key landing and takeoff feature makes it easier to get the drone in and out of the air.
The altitude feature makes it easier to fly the drone. You can use the FPV feature to see what your drone camera sees. The multi-axis gyro improves stability and makes it easy to handle the flight controls. This drone has an impressive flight and image capture performance. The touch-screen control allows the flyers to control the direction of the drone via gestures, with the help of G-sensor control feature. The Air pressure sensor helps in flight stability enabling the flyer to take photographs and video at a much higher quality. You can release one of your hands in controlling vertical direction by focusing on forward, backward, left and right. The 2.4G technology enables several models to be played at the same time without hindrance.
The drone can be operated using touch screen controls.
The Air pressure sensors provide stability.
The camera offers high quality pictures.
Drone takeoff and landing is very easy.
The flight features are easy to learn and control.
The battery life is limited.
This device has low wind tolerance.
It is slightly noisy and the app is a little buggy.
Contixo F3 RC Remote Control Quadcopter Drone is a mobile control drone with in app features that enables the user to use various functions such as a gravity sensor to control the flight through movements of the smart phone. This device is suitable for both beginners as well as experts.
8. Hubsan X4 Quadcopter with FPV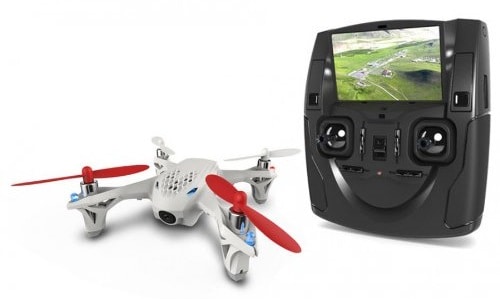 Hubsan X4 Quadcopter with FPV camera is a beginner friendly and an affordable drone. It features a live video screen camera. The control features are easy to learn and require some practice. It is durable to take a few falls and does not get easily damaged.
Key Features
Unique Design
Very Lightweight
Imaging Sensor
FPV Flying
8 GHz WiFi link connection
Product Review and Description
Hubsan X4 Quadcopter with FPV has a live video screen camera. This model has a 0.3 MP camera captures video recordings up to 100 foot distance at a 640 x 480 resolution. A small drone with live stream video is very impressive. The drone and controller is connected using a 5.8 GHz WiFi link. This drone is durable and can withstand a few crashes. The design features stylish colors and two LEDs on the front that make look very unique and cool. The two front propellers are white, while the rear ones are red.
The X4 is relatively easy to fly. Even if you are a beginner, you will be able to fly this drone easily. This drone is small, so it is not wind resistant. Due to its relatively light weight, one must fly it in low-wind environments. The 4.3-inch LCD viewing monitor built-in the device's wireless controller allows you to fly your drone without actually having to see it. The X4 has a lot of power which gives the device speed and maneuverability.
Though the drone goes up to the speed of 10 mph it is within your control. The quadcopter's response is quick towards the controller. The Hubsan's remote control is bulky and quite heavy and very uncomfortable as it is made from plastic. The drone has a 380 mAh Lithium-Polymer battery with an auto cut off safety and PCB. The maximum flight time is around 6 to 7 minutes for the 380 mAh battery and 8 minutes for the 500 mAh battery.
Increased maneuverability helps in performing stunts.
This drone has LED lights that make it visible in the dark.
It can be easily recharged from the computer.
It has a good indoor performance.
There is an SD slot for additional memory.
This drone has low wind tolerance.
The remote control is very bulky and uncomfortable.
Battery drains quickly hence there is limited flight time.
Hubsan X4 Quadcopter with FPV is a great device to be owned by the beginners. Even though it has a low wind tolerance the FPV features make up for any missing components. The remote control may be uncomfortable but you will enjoy your flying experience using this drone.
9. Parrot Airborne Cargo Mini Drone

Parrot Airborne Cargo Mini Drone is the latest mini drone launched by the company Parrot through a series of drones that travel in air, water, and ground. These drones are simple but constructed in a good way that provides durability. The free-flight mini-app gives you control from your smartphone or tablet.
Key Features
VGA mini-camera
Durable Design
Shock Resistant
Free Flight Mini App
Removable battery
Product Review and Description
Parrot Airborne Cargo Mini Drone is Parrot's second generation Mini Drone after their successful launch of Rolling Spider Mini Drone. The upgrade has made certain changes which have led to the smooth functioning of this mini drone model. The build quality is excellent and in case of damage of irregular functions the replacement parts are available from Parrot. The Cargo works well with the attached hull which reduces the battery life slightly. With the help of free flight app the drone can be controlled from your smart phone or tablet. The Bluetooth LE connection permits 9 minutes of flying time for the drone.
This drone has a number of flight sensors packed and utilized in a compact form. A 3-axis gyroscope analyses the movement and rotation of the drone. This information is used in the flight control system to ensure smooth and stable flying. This drone operates at a speed of 5 m/s and can perform stunts at the press of a button. The drone consists of a downward facing camera that captures images at 16 FPS to measure the speed. When you finish a flight, the photos are sent to your smart phone via Bluetooth. The Freeflight app has an endless number of options. You can set a maximum height for indoor use. You have settings for maximum tilt and rotation speed.
The drone provides stability.
Easy to fly with one touch take off and landing.
Bluetooth LE allows you to connect without pairing.
Smartphone controller allows usage of various options.
Battery Charging takes only 25 minutes.
Charging via computer USB takes 90 minutes as no wall charger is included.
Bluetooth connectivity has 10 meters of limit and no video streaming or recording.
Battery life is only 9 minutes which is limited.
Parrot Airborne Cargo Mini Drone is a great device especially for beginners to learn flight control through various functions. The Bluetooth connectivity enables the user to receive captured images. Though this drone only takes pictures and does not record videos. Overall it has great performance and provides the user with a fun experience.
10. Zerotech Dobby Pocket Selfie Drone FPV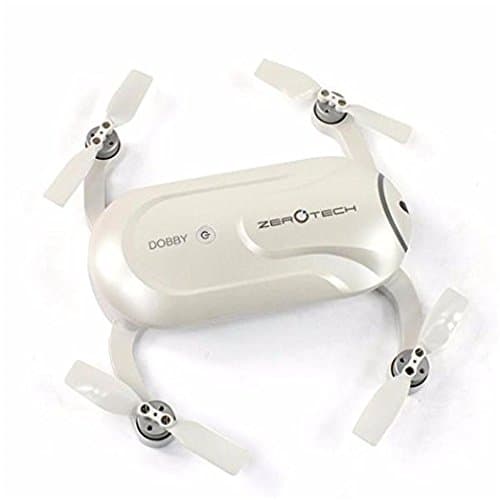 Zerotech Dobby Pocket Selfie Drone FPV contains a highly portable design and is small in size which can easily fit into your bag or pocket. It is reasonably priced and ideal for people who wish to take ownership of a drone.
Key Features
13MG camera with 1080P resolution
970 mAh removable and rechargeable battery
Qualcomm Snapdragon Processor
16 GB internal memory
Electronic image stability
Product Review and Description
Zerotech Dobby Pocket Selfie Drone FPV has a 13-megapixel camera, which can be angled manually to get the right shot. The 13-megapixel with f/2.2 CMOS lens can capture 4,208 x 3,120 pixels in resolution. This produces images of good quality. The drone can be linked with the app using WiFi with support of 2.4GHz and 5GHz standards. Shots at a single go or time delay are possible with the camera. The captured image is stored in the Dobby's 16GB of internal memory. It will then be downloaded to your handset using the Wi-Fi connection.
There are many automatic flight programs that can be used to get a smoother shot. Face tracking is supported by this drone. But it is best to use the face tracker in close quarters. You can capture some dramatic shots that causes the drone to move backwards, while recording, drifting away before returning to its original place. This unit uses GPS to track its location in relation to you and your handset. This enables the drone to land on the ground as well as palm. The charging dock enables the 970mAh battery to charge swiftly. But if you wish to make the most out of this drone, a spare battery is a must.
The drone is a small and portable size.
There is a stable flight performance.
4K 1080P camera enables it to capture good quality pictures.
This device has a removable and rechargeable battery.
GPS tracker helps the device to find your location.
This drone is slightly pricier than others.
The flight time is very less.
There is no remote control just an app that provides control.
Zerotech Dobby Pocket Selfie Drone FPV is a great choice if you are looking for a drone that clicks decent photos. The dobby drone has impressive aerial shots for hands free selfies and videos. This small device gives great performance and stability in the air. This drone is slightly expensive and there are other cheaper mini drones available for beginners.
The best drones tend to be large, powerful machines, but there's something to be said for units that don't turn the needle so far in the weight department — especially when their reduced sizes make them that much more portable. Just because a drone is small doesn't mean it can't be a powerful flier. Some even pack features similar to what you'd find on larger, more expensive drones: high-resolution cameras, obstacle sensors, GPS tracking, long-lasting batteries, and plenty more.
A final word!
Here, we took a look at the best mini drones on the market. You can also have a look on Long range drones in 2020 from my previous article. These devices include extra small models that can fit in your palm, drones with collapsible propeller arms that make them extra easy to transport, and some slightly larger models that are still quite handheld. Whether you want a drone that's going to be a capable video and photo companion or just want something to fly around your backyard for some after-work fun, you'll find a fit here.
Your quadcopter should be equipped with advanced control features for safe and simple flying. Nowadays, some are even operated from mobile apps that are connected to the mini-drone through GPS, you can be able to fly 360 degrees in all directions and even fly high up to take top elevation pictures. Not to mention the special shot modes that this technology also offers.
In addition, some mini-quadcopters allow you to control the device from your phone, using a small video-game-style controller and a headset that provides first-person-view of the machine from up in the air. Furthermore, there are devices that after launching you only need to tap twice on your smart phone screen to make the quadcopter follow your face. After getting your ideal shot, the drone shall then fold back to the size of a small hardcover book that you can easily carry with you.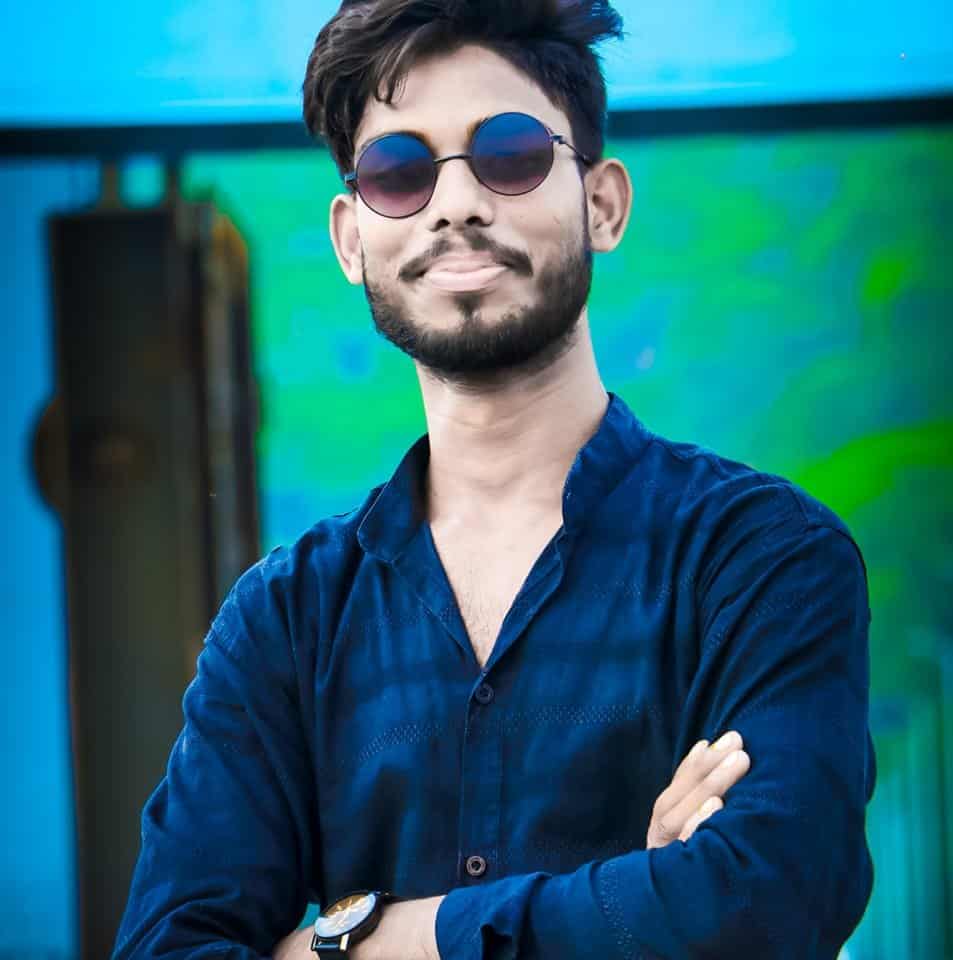 Myself Faran, Author and founder of this blog, since my childhood I was so fascinated about drones and their features that make them very important devices in various fields like search and rescue, surveillance, traffic monitoring, weather monitoring, firefighting, personal use, drone-based photography, videography.